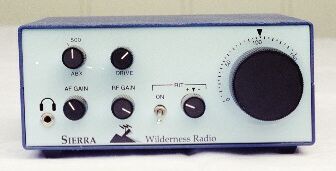 The Sierra CW Transceiver
HF transceiver
My portable HF transceiver is a Sierra CW QRP transceiver. The Sierra is described in the ARRL Handbook 1996 and later issues. Back then, it was manufactured by Wilderness Radio in California. The Sierra is no longer in production.
The Sierra came as a kit with one main circuit board and 213 parts. All controls and connectors were soldered directly onto the main PCB.
Besides the standard knobs on the front, I added an ABX-control (variable filter bandwidth) and a drive control.
I used the DL-QRP-PA amplifier to obtain 4-5 W output. The power amplifier was mounted on the rear panel.
One band module is required per band. I've built 5 band modules for 40, 30, 20, 17 and 15 meters.
---