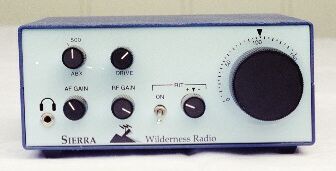 The Sierra CW Transceiver
HF transceiver
My portable HF transceiver is a Sierra CW QRP transceiver. The Sierra is described in the ARRL Handbook 1996 and later issues. It is manufactured by Wilderness Radio in California.
The Sierra comes as a kit with one main circuit board and 213 parts. All controls and connectors are soldered directly onto the main PCB.
Besides the standard knobs on the front, I have added an ABX-control (variable filter bandwidth) and a drive control.
I am using the DL-QRP-PA amplifier to obtain 4-5 W output. The power amplifier is mounted on the rear panel.
One band module is required per band. I have built band modules for 40, 30, 20, 17 and 15 meters.
---