Balanced Antenna Tuner
QRP tuner for 10-40 meters by OZ1BXM
My homemade antenna tuner has three functions:
25 W dummy load
Power Meter (measures SWR and power)
Balanced antenna tuner
The tuner is kept in-line all the time.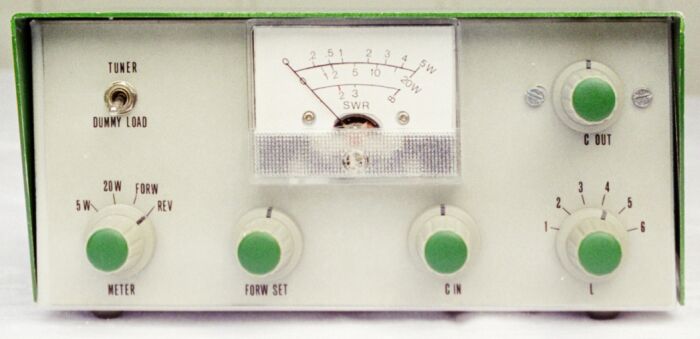 Figure 1. Front view.
Knob
Function
TUNER/DUMMY LOAD
Input selector switch.
Tuner: input signal goes to tuner via Stockton Power meter
Dummy load: input goes to dummy load via Stockton Power meter
METER
5W: Measure input power. Max. meter deflection is 5 W.
20W: Measure input power. Max. meter deflection is 20 W.
FORW: Measure forward power (input power)
REV: Measure reverse power (reflected power)
FORW SET
Adjust to maximum meter deflection when the METER switch
is in the FORW position.
Cin
Antenna tuner adjustment
L
Antenna tuner adjustment
Cout
Antenna tuner adjustment
The different blocks are seen in fig. 2. Please compare with the photo in fig. 3.

Figure 2. Left: Physical block diagram. Right: How the blocks are connected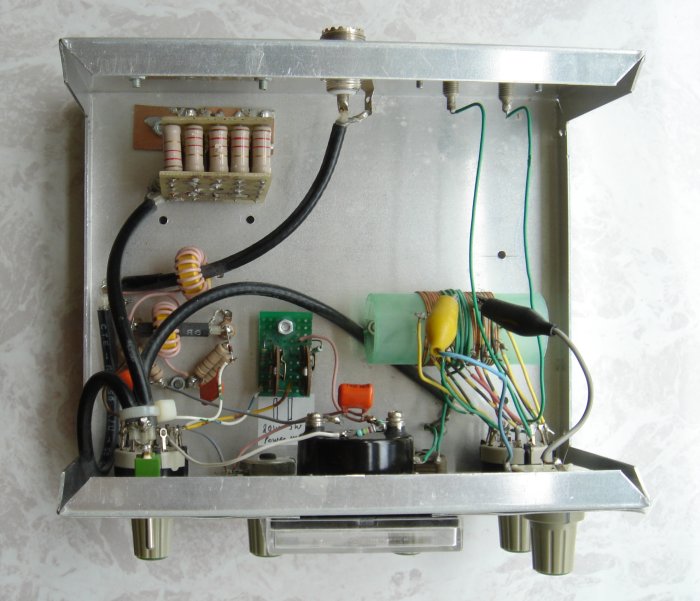 Figure 3. Top view.
Circuit diagram
The tuner's input circuit is unbalanced and it consists of Cin and Lin. The balanced output circuit consists of L and Cout. L is an inductor with 2 x 6 taps. The output terminals can be connected to any pair of taps (symmetrically) using S1. Furthermore, Cout can be connected to any of the taps making tuning at the higher frequencies easier. This is because a smaller part of L's inductance is used if connectiong Cout to the two taps labelled 3, for example. Cout should always be connected symmetrically to L.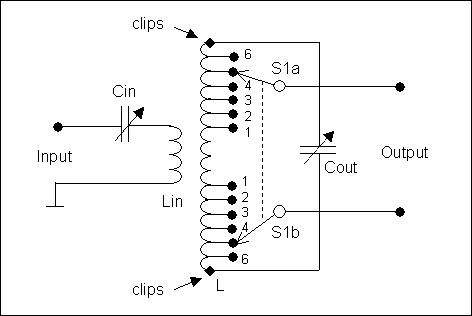 Figure 4. Circuit diagram.
Component
Remarks
Cin
500 pF variable capacitor
Lin
5 turns 0.6 mm (22 AWG) on center of L
L
26 turns 0.6 mm (22 AWG). Length of winding is
28 mm (about 1 inch); make 6 taps every 2 turns beginning
from one side; then make 6 more beginning from the other side.
S1
2 x 6 position rotary switch
Coil form
Diameter is 26 mm (1 inch); length is 60 mm (2½ inch).
Material: Plastic container originally used for coins.
I asked for one in a local bank and got it for free.
Cout
200 pF variable capacitor
Examples of use
The balanced antenna tuner has many applications. I have used it for the following antenna types:
Delta loops for 10, 15, 17, and 20 meters
Horizontal loop for 10-40 meters
Dipoles for 10 and 20 meters
Multiband doublet 10-40 meters
Pictures
Here are more pictures showing the construction of L and its taps.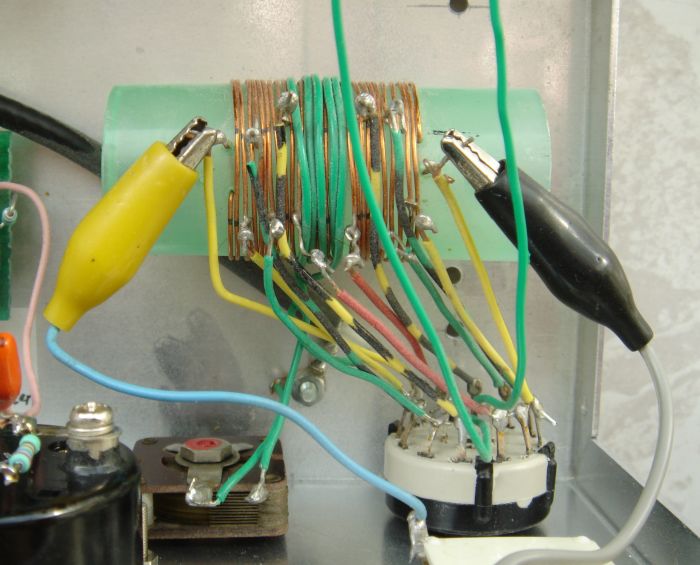 Figure 5. Cout is connected to tap 6 (used at lower frequencies).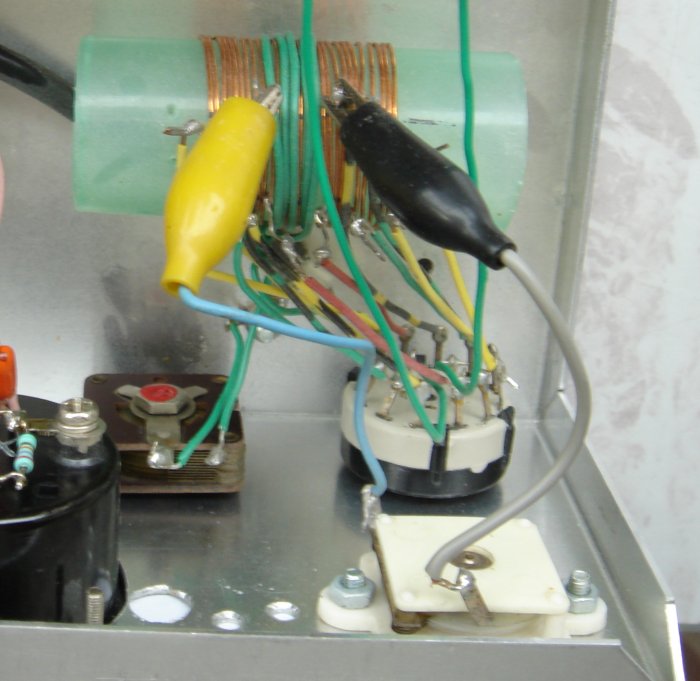 Figure 6. Cout is connected to tap 2 (used at high frequencies).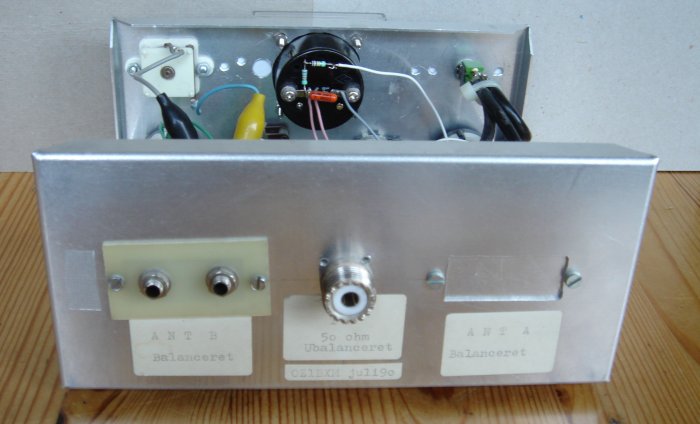 Figure 7. Rear view.

---
Latest revision July 2010 by Lars Petersen, OZ1BXM.